The Communications Technology
Multi-Site Meetings typically employ one of three primary modes of communications technology (satellite broadcasting, video conferencing and web conferencing). They are listed below along with their general characteristics. Each is suitable for a Multi-Site meeting, and when the objective of the meeting is properly matched with the capabilities of the technology, a message can be delivered with profound impact.
Satellite Broadcasting (high resolution)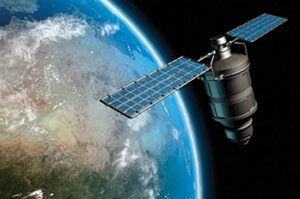 With this technology a satellite truck is deployed to each site to provide communications links (both inbound and outbound) for the venue. Each truck is coordinated from a producer location at the main venue site, also called the Host Site. Video and audio can be transmitted from each site and it can be seen and heard by all sites in the Multi-Site meeting.
During a period set aside for "questions and answers" each site will see the location from which a question is being asked. A staff of technicians, managed by a director, carefully cuts to each site (providing both the audio and video signals) as the site offers questions. In this way a large group spanning many regions can be integrated into one community that can both hear and view one common message. This full (audio/video) two-way interactive satellite communication ties the remote sites to the Host Site with extremely high quality images.
Video Conferencing (medium resolution)
Video conferencing technology can be used to provide the same full, two-way interactivity of satellite broadcast at much lower cost. For Multi-Site meetings, video conferencing uses bridging systems to connect each site to the others. It is possible to configure a video conference bridge to show all sites at the same time on a projection screen or monitor. Or, as is more typical, a bridge can show just the site from which a person is speaking or making a presentation.
The technology that makes interactive video conferencing possible, compresses video and audio signals, thus creating an image quality lower than that of satellite broadcasts.

When you need quality broadcasting services on the finest global networks, contact TKO.

- Jack Garchar, Corporate Communications
Web Conferencing (low resolution)
Web conferencing (data collaboration) offers the lowest cost solution of the Multi-Site meeting technologies. Web conferencing tools are becoming widely accessible through common web browsers and there are a number of web conferencing software providers.
These meeting tools are most widely used for computer-based training and ad-hoc meetings or demonstrations. Large events can be successfully coordinated with these products. An important consideration for Multi-Site web conferences is that there is little ability to influence the physical environment of the individual attendee. Therefore, distractions that might be present for an individual, because they attend the meeting from their own work space, can impact an event. Fortunately, such an impact only affects the individual located within the affected workspace.
TKO Video Communications
TKO Video Communications is a global leader in providing high-quality video communications solutions for education, business and government. Our capabilities include web conferencing services, audio conferencing, video conferencing, satellite broadcasting and event management for Multi-Site meetings.