AccessSwitch 20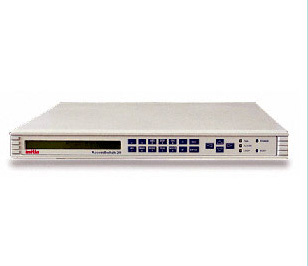 The AccessSwitch 20 (M20) provides a reliable and cost-effective, access to audio, data and video communications in a quiet 1RU chassis. The M20 is a perfect solution for small business, regional offices or individual floors of large buildings where network requirements still demand capability but in lower port density. The appliance based M20 AccessSwitch can be configured for Primary Rate ISDN (PRI), T1 and Basic Rate ISDN (BRI) network service from the PSTN and it can use the same ports for network distribution.
Customer Support
TKO offers service plans, technical support and training for all AccessSwitch products. Our Urgent Service team is available to answer questions, assist with remote telephone support and to provide onsite technical support at customer facilities. Skilled communications engineers and technicians from TKO support all AccessSwitch products.
You may also be interested in learning more about:
AccessSwitch Model 20 - Advantages
Ideal for connecting video conference equipment to mixed networks
Basic Rate ISDN (BRI) or T1/PRI interfaces on RJ45 terminations
Cost-effective switched wide area network access in a 1RU height design
Quiet, appliance design allows operation in conference rooms or Telco closets
2 Synchronous interface ports for V.35, RS449, or X.21 connections
Supports private, national, and international dialing plans and translations
TKO Video Communications
TKO provides video conferencing equipment (Cisco, Tandberg, Polycom, Initia, Radvision and more) as well as technical support and services for local, national and worldwide video networks.
TKO Video Communications also provides video conferencing, event management, video and audio streaming and satellite broadcasting. We distinguish ourselves from all vendors in the video communications industry by providing high quality video conference outsourcing, video products, and solutions with unparalleled attention to our customer's objectives.