Conference Room Furniture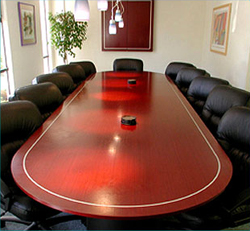 Our selection of conference furniture ranges from prestigious executive conference tables for the boardroom to handsome video conferencing carts for set top Cisco/Tandberg, Polycom, LifeSize, and Sony equipment.
We offer a wide variety of choices to meet your room layout and functional needs. Worldwide shipping is available on all furniture.
Conference Room Tables and Carts
Executive Conference Tables - Our tables can be customized in shape, size and finish. We integrate electronic accessories that can be concealed within the furniture such as modules for LAN, Power and XGA (projection) connectors.
Single Monitor Cart - For one display, we recommend our 46" black wheeled cart. It is easily moved and includes heavy duty casters which are important for spaces with carpet and doorway thresholds. This cart accommodates displays from 32" tube monitors to a 42" plasma displays.
Dual Monitor Cart - Designed for dual monitors that can be extremely heavy and we have a cart to match the application. Our extra wide Dual Monitor Cart with a 76" width can support two 27" to 36" standard televisions or a single large LCD or Plasma (for example a plasma monitors 60" and up).
Video conferencing cart Economy Monitor Cart - This cart is just 36" wide and easily accommodates most video conferencing displays. The sturdy design supports up to 500 pounds, which is perfect for 27', 32" and 36" flat tube monitors. A large storage area accommodates a personal computer, codec, VCR, DVD, or manuals and extra cabling.
Plasma Monitor Cart - Our popular plasma monitor cart is both elegant and sturdy and enhances the look of LCD or Plasma monitors. It can support displays up to 500 pounds and up to 60" wide. Its shallow design and ample width make it a good choice for flat panel monitors (such as LCD's and Plasmas).
Video Conferencing Bundles
Whether your conference room is a small office or a large executive boardroom, TKO has a solution for you. Contact us at 1 (800) 216-3475 for further assistance and pricing.
You may also be interested in learning more about:
TKO Video Communications
TKO provides video conferencing equipment (Cisco/Tandberg, Polycom, LifeSize, and Sony), customized conference tables for boardrooms as well as services and technical support for video networks. TKO also provides audio conferencing, satellite broadcasting, video and audio streaming, as well as training for the telecommunications and video conferencing industry.