Plasma Monitor Cart
(EQ-MCART1PL50)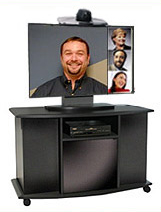 This Plasma Monitor Cart is of durable construction with the capability of supporting up to 500 lbs. The cart includes a rear door for easy access to an internal storage area from the rear (this is useful while installing or relocating your video conferencing systems). Additionally, it is fitted with a smoked Plexiglas® front door, a fixed shelf for a VCR or DVD player and heavy duty casters that can support the weight of the video conferencing system and a large 50" or 60" plasma monitor.
The cart also has at each side, storage compartments for additional items such as VCR tape storage, DVD or CD storage, and PC mounting or simply space for extra cables and connectors.
Our Plasma Monitor Cart can support up to a 60" plasma display and it is well suited for Polycom's VSX series systems when configured with the VSX-7000 door option. Sony PCS-1 and Tandberg MXP video conferencing systems do not require the VSX optional doors.
You may also be interested in learning more about:
Standard Features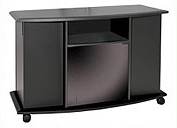 Capable of supporting 500 lbs with heavy duty casters (4) for easy maneuvering
Shipped fully assembled with a permanent construction process
30" height for an unobstructed view of the monitor
Tinted Plexiglas doors with a rear door for easy access to equipment stored inside
Fixed shelf for VCR/DVD player
Scratch resistant finish
Options (Polycom VSX Optional Kit)
10 RU rack mount kit
Security package for front or rear doors
Six outlet power bar with 10" cord
Camera mount for set-top video conferencing system
| | | | | |
| --- | --- | --- | --- | --- |
| Model* | Width | Height | Depth | Finish |
| EQ-MCART1PL50 | 48" | 30" | 24" | Black |
| EQ-MCART1PL50VSX (Polycom VSX Optional Kit) | 48" | 30" | 24" | Black |
*Specifications subject to change without notice.
TKO Video Communications
TKO sells, installs and services video conferencing equipment from Codian, Sony PCS, Compunetix, Tandberg and Polycom. We also provide related services including streaming audio/video and both audio and web conferencing.