Sony TL50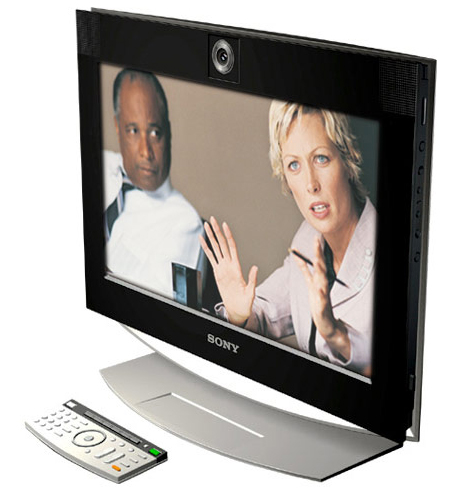 The world of desktop video conferencing has just become easier and more cost effective. With the introduction of the PCS-TL50 desktop, Sony has brought ease and versatility to your desk and small office. With the user-friendly features the TL50 is ideal for executive offices and small businesses.
Deskop Video Conferencing
Providing an all-in-one desktop video conferencing package, the TL50 features a unique pan-tilt-zoom camera embedded in an attractive and stylish 20-inch wide LCD display that can also double as a PC monitor. With the TL50 you can now sit at your desk and effortlessly make it easy for an individual or small group to conduct a conference anytime and almost anywhere at the touch of a button. Connecting with a Sony TL50 has become easier than making a telephone call.
Equipment Features
The TL50 has a wide range of standard and optional features available. Some of the many features listed below include;
All-In-One Design
To minimize desktop clutter, the Sony PCS Tl50 includes an embedded codec, microphone and speakers. The TL50 can also double as a PC monitor at your desk. Its has a 20-inch wide LCD and a built-in digital PTZ (Pan/Tilt/Zoom) camera. The built-in speakers and microphones provide high audio quality during video conferencing.
Easy Setup and Use
With a built-in Ethernet interface, the PCS-TL50 can be configured by simply plugging it into a LAN and making a few quick settings on an intuitive setup menu. The system supports data-transfer rates of up to 2 Mb/s, making high-quality television like video conferencing possible. An optional ISDN BRI 768kbps interface unit (PCSA B768S) or an ISDN BRI 384kbps interface unit (PCS B384S) (network adapter) is available for video conferencing over ISDN networks. These units support data-transfer rates over ISDN lines at up to 768 Kb/s or 384 Kb/s, respectively.
Multipoint Video Conferencing at up to 10 Sites
Using optional MCU software, the PCS-TL50 can be configured to communicate with up to 5 video conferencing sites using either an IP (H.323 protocol) or ISDN (H.320 protocol) connection. It can also support connections that are a combination of IP and ISDN using a unique bridging function. Moreover, two PCS-TL50 units - each installed with the optional MCU (H.323) software - can be cascaded with an IP connection to support a maximum of 10 sites.
One-Touch Dialing
The TL50 can easily connect to any of your listed contacts with the touch of a button. By preprogramming your contact information, picture icons and contact names will appear at the bottom of the main menu. The calls are placed by pressing the button on the Remote Commander™ unit which corresponds to the picture icon. Up to 30 contacts in the phone book can be flagged for one-touch dialing.
Data-Sharing Capabilities
Data originated on your personal computer can be shared with your video conferencing counterparts. Any image that can be displayed on a personal computer can be sent or received in native XGA resolution, allowing all parties to share data during conferencing.
High Quality Video and Sound
In order to maintain compatibility with legacy systems The Sony TL50 complies with the TU H.264 video codec in addition to previous versions of ITU video conferencing codecs. PCS-TL50 also supports MPEG-4 AAC (Advanced Audio Coding) at 14 kHz. Boasting dual-integrated speakers, microphones and a built-in echo canceller, audio quality is much higher than conventional speakerphone systems.
Secured Video Conferencing
Secure video conferencing over a network is possible because the PCS-TL50 supports AES (Advanced Encryption Standard).
For more information about the TL50 features and performance please visit the Specifications and/or Optional Accessories web page.
You may also be interested in learning more about:
TKO Video Communications
TKO also provides satellite broadcasting worldwide, video and audio streaming and audio conferencing. In addition, we offer hand-on training in video conferencing and telecommunications.