Video Conferencing Software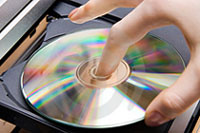 There are three types of video conferencing software that assist in the operation and management of video communications networks:
Control Software
Scheduling Software
Systems Software
Control Software
Manufacturers provide controlling devices ranging from remote controls to brower-based systems to help with device control, management, and reporting.

Great video conferencing software makes even the most high-tech and capable new products easy to use.

Scheduling Software
Timing video conferencing calls is an issue that can be solved with good scheduling software. To conduct a video conference, satellite broadcast or webinar, attendees at points around the world must be notified of the schedule for the event in their local time. There can be setup and take down times between meetings for room cleanup and network reconfiguration. Most manufacturers offer some form of scheduling system with their hardware or software.
System Software
Upgrades and updates to a video system's software can offer new features and capabilities with each revision however there are administrative and technical costs to installing the software and verifying it works properly. We recommends changing system software only when new features are needed to ensure system reliability and stability.
About TKO
TKO Video Communications an industry leader in video communications, offers conferencing software and equipment (Cisco/Tandberg, Polycom, LifeSize, Sony, and more) including testing, installation and service plans. TKO also offers satellite broadcasting, audio conferencing, audio and video streaming, telecommunications and video conference training.