AccessSwitch 60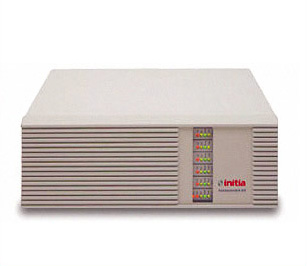 The AccessSwitch 60 (M60) is designed to provide reliable, configurable switching platform for moderate scale Public Switched Telephone Network (PSTN) applications. Cost-effective with a high-capacity, the M60 provides integrated wide area network access for data, audio, and video conferencing. Individual plug-in communication cards provide optimum flexibility and investment protection.
This is an expandable switching platform. The M60 chassis is configured with 4-T1/PRI interfaces on a system controller card. There are 5 open slots for other cards/modules including T1/PRI cards for distribution of T1 services or Primary Rate ISDN, BRI cards for distribution of Basic Rate ISDN in either the U or S/T interfaces (2 or 4 wire) and cards that enable connections to routers and video systems using V.35 with RS366 or RS449 interfaces. All of these cards combine with switching system software to enable network translations and call processing from endpoint to endpoint over PSTN and private Time Division Multiplexed (TDM) networks.
Customer Support
As with all AccessSwitch products and software, TKO Video Communications offers training, technical support and services plans. We have, in-stock, one of the world's largest inventories of AccessSwitch systems and cards for use with T1/PRI and BRI networks. Engineers staff TKO's Urgent Service helpdesk and they are available for immediate dispatch to locations around the world for problem resolution. Additionally, our engineers are available by telephone to offer immediate remote assistance.
You may also be interested in learning more about:
AccessSwitch Model 60 - Advantages
Up to 20 inverse multiplex ports
Up to 24 T1/E1/Primary Rate ISDN (PRI)
Up to 20 Synchronous interface ports for V.35, RS449, or X.21 connections
Dynamic access switching eliminates the need for separate, dedicated access lines
Lower network access costs
International dial plan and protocol support
TKO Video Communications
TKO provides video conferencing equipment (Initia, Tandberg, Radvision, Cisco, Initia, and more) as well as services and technical support for local, national and global video networks. TKO Video Communications also provides video conferencing, video and audio streaming, satellite broadcasting and event management. We distinguish ourselves from all vendors in the video communications industry by providing reliable and high quality video conference outsourcing, video products and solutions with unparalleled attention to our customer's objectives.