Bundles - Tandberg 7000 MXP

(with Executive Conference Room Table)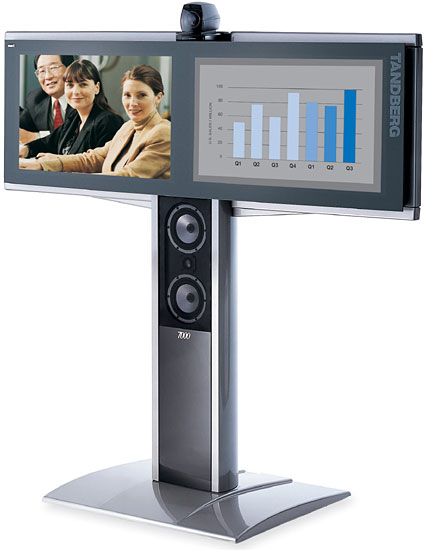 The elegant multimedia executive boardroom is a now a reality. With the Tandberg 7000, executives can communicate globally with both capability and style. The Tandberg 7000 MXP and a customized electronic conference table are a matched pair in both form and function.
The 7000 MXP (and its larger twin, the Tandberg 8000 MXP) includes all of Tandberg's latest features. It is a standard requirement for executives of all types in boardrooms, conference centers and government offices.
Executive Conference Table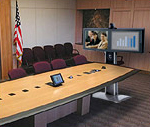 TKO can assist you in designing a table that is not only aesthetic in the boardroom, but also electronically integrated to meet your critical day-to-day audio/video conferencing needs. Our tables are of structurally sound design and can be customized to desired shape, size and finish to match your room décor. Each table is fitted with connections for power, PC display and Local Area Networking connectors - all hidden from view when not in use. For more information please visit our conference tables pages for the gallery of our table shapes, sizes, finishes and edges.
You may also be interested in learning more about:
Tandberg 7000 MXP
Elegant and compact, the Tandberg 7000 MXP dual plasma monitor system is the ideal video conferencing system for an executive room. The 7000 MXP can simultaneously display both PC images and meeting participants at remote locations making it ideal for presentations and planning meetings.
Tandberg 8000 MXP
The 7000 MXP can be upgraded to the Tandberg 8000 MXP, which offers larger displays in the same elegant form. The 8000 MXP shares the same performance features of the Tandberg 7000 but with a larger profile. See Tandberg 8000 MXP specifications for more information.
Tandberg 7000 MXP Performance
Choice of network: IP, ISDN and other external network
Bandwidth: up to 2 Mbps
ISDN/ 4 Mbps IP (6 Mbps in Multi-Site)
Superior video quality incorporating the H.264 standard
True CD-quality audio
Highest level of standards-based embedded encryption
Protection against network interruptions in point-to-point and multipoint calls with automatic Downspeeding and IPLR
Design
Designed for the boardroom and executive conference rooms
Dual 30" LCD monitors with 16:9 high resolution format
Elegant, completely integrated solution
Wide angle view camera with extensive zoom, pan and tilt
Stereo and Digital NAM are enhanced by the optional satellite speaker system for superior audio
Application Features
Join up to 6 video and 5 audio sites with embedded Multi-Site functionality
Best possible call for each Multi-Site participant with rate matching and transcoding
Powerful live presentations through one-step PC plug-in or LAN connection
View presentations and presenter simultaneously with either DuoVideo or H.239
About TKO Video Communications
TKO is a worldwide leader in providing reliable, high-quality video communications solutions. Services include video and audio conferencing, video and audio streaming, multi-site event management and satellite broadcasting.