ViewStation 4000 - Specifications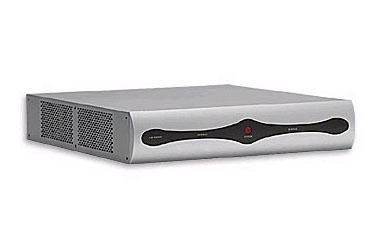 ViewStation 4000 Specifications
Cisco AAVID certified
ITU H.323 and H.320 compliant
User Interface of the ViewStation 4000
User-friendly graphical user interface that is easy to read from a distance
Handheld, ergonomic remote control
Web interface (Internet Explorer 5.5 & 6.0; Netscape Navigator 6.0 & 6.1)
Custom logo on home screen with speed dial numbers
The Polycom Office Experience
People+Content™ allows dual display of video and PC graphics
Conference on Demand™ initiates unscheduled MGC calls from the endpoint
Call Detail Records enables billing of calls and tracking with Global Management System
Global Management System for centralized management
Global Directory Server for live global address book
PathNavigator for easier call placement and network
cost optimization
Polycom Video Error Concealment (PVEC) for improved video quality on networks with packet loss
MGC Click&View integration for individual screen layouts
Polycom ViewStation 4000 Bandwidth
Max Data Rate H.320: up to 2 Mbps
Max Data Rate H.323: up to 2 Mbps
Video Standards
H.261, Annex D
H.263+ Annexes: L, F, T, I, J, U, u
H.263++ Annex D
ITU 60 fields per second letterbox
ViewStation 4000 Video Features
Automatic VCR recording of all video conferencing endpoints based on the person who is talking
4 monitor support to simultaneously display full-screen video from up to 4 endpoints plus PC content on a separate XGA projector
Automatic Picture-in-Picture (PIP)
Video Outputs (10 outputs)
4 x MiniDin S-Video (Support for 4 independent monitors)
4 x RCA/Phono, composite (Support for 4 independent monitors)
1 x RCA/Phono, composite (VCR)
1 x XGA (projector)
Video Inputs (7 inputs)
1 x MiniDin S-Video (document camera)
1 x MiniDin S-Video (main camera with PTZ control)
1 x MiniDin S-Video (second camera with PTZ control)
1 x RCA/Phono, composite (main camera)
1 x RCA/Phono, composite (VCR)
1 x RCA/Phono, composite (document camera)
1 x RCA/Phono, composite (second camera with PTZ control)
Optional Polycom PowerCam External Camera of the ViewStation 4000
Ultra-quiet, ultra-fast Pan, Tilt, Zoom (PTZ)
65° Field of View
Tilt Range: +/- 25° (up/down)
Pan Range: +/- 100° (left/right)
Total Field of View: 265°
12x Zoom; f-4.2 to 42mm
F=1.85 to 2.9 mm
Automatic White Balance
Auto Focus
20 camera presets (10 local and 10 far end)
Far end camera control
Video Formats
NTSC, PAL, SVGA, XGA, VGA
You may also be interested in learning more about:
People+Content
Works from any video conferencing endpoint with embedded MCU (not just host site)
Dual images (transmits people and high resolution content simultaneously)
Dual audio (transmits audio from room microphones and PC simultaneously)
Available on IP and ISDN
Live PC Content Resolution
VGA (640 x 480)
SVGA (800 x 600)
XGA (1024 x 768)
4CIF or CIF for S-Video and composite inputs
Live People Video Resolution
4CIF (704 x 576)
CIF (352 x 288)
QCIF (176 x 144)
Still Image Transfer
CIF, 4CIF (H.261 Annex D), 16 CIF High resolution (H.263)
Other Content Input Options
Polycom SNAP for high-resolution graphics capture of PC content
pc Presents for Microsoft PowerPoint presentations from your desktop
Optional Visual Concert™ FX
Tabletop device (for audio and video input from PC or Macintosh)
Output: up to 1024 x 768, 60 Hz
Input: up to 1280x1024, 60 Hz
1 x audio input for PC
1 x video input for PC up to 1280 x 1024, 60 Hz
1 x video out for projector up to 1024 x 768, 60 Hz
3 x 10/100 Ethernet hub
Audio Features
Instant Adaptation Echo Cancellation
Automatic Noise Suppression (ANS)
Automatic Gain Control (AGC) - voice activated
Built-in tonal speaker test
Audio mixer
Audio level meter
Telephone POTS support
Ability to talk over VCR audio
Audio Standards
7 kHz G.722, G.722.1
3.4 kHz with G.711, G.728
Audio Outputs (4 outputs)
2 x RCA/Phono line level (VCR)
2 x RCA/Phono line level (main audio)
Audio Inputs (4 inputs)
RJ-9 to microphone (daisy chain up to 2 microphone pods)
1 x RCA/Phono line level (Mixer/Auxiliary)
2 x RCA/Phono line level (VCR)
Digital Tabletop Microphone
360° voice pick-up, unidirectional performance
Automatic room noise reduction
Gated mixer built into microphone
Includes 2 microphones pods
3 hyper-cardiod microphones in each microphone pod
Button on each microphone pod
Can be mounted to ceiling or walls
Network Features
Automatic H.320/H.323 video conferencing calling
Down-speeding over IP and ISDN
OneDial intelligent call management attempts call on preferred network (IP or ISDN) and automatically rolls over to secondary network if needed
Auto SPID detection and configuration
Maximum call length timer
Dial ISDN lines separately or simultaneously
NATO standard KG-194/KIV-7 encryptor support with on-screen and address book dialing
Software upgradeable Inverse Multiplexer (IMUX)
ViewStation 4000 Frame Rates (point-to-point video conferencing)
15 fps - 30 fps
Intelligently selects frame rate for best video performance
Near TV-quality letterbox 60/50 fields video for NTSC/PAL at 512 Kbps and above
Embedded MPPlus Video Conferencing
Supports mixed combinations of IP, ISDN, and analog telephone calls
Supports normal analog telephones
Supports IP telephones
Automatic IP and ISDN down-speeding
Automatic MPPlus Presentation modes to automatically switch between presenter and continuous presence modes
Dial-in and dial-out during MPPlus video conferencing calls
Continuous presence or voice switched
Chair control from endpoints or host system on ISDN
Chair control from endpoints or host system on IP
Embedded MPPlus video conferencing for 5 sites (4 IP/ISDN sites + 1 POTS audio)
Cascade up to 14 sites (10 IP/ISDN sites + 4 POTS audio)
Mixed network cascading
Password protection for incoming calls
Supports People+Content dual streams from any endpoint (not just host site)
Quality of Service and Experience - iPriority™
Polycom Video Error Concealment (PVEC) for concealing packet loss
DiffServ DHCP (CoS)
IP Precedence (ToS)
Automatic NAT discovery
Asymmetric speed control
Dynamic bandwidth allocation
Packet and jitter control
Proactive network monitoring
Network Address Translation (NAT) support
Fixed TCP/UDP port firewall support
Lip synchronization
Echo suppression
Echo cancellation
Auto gatekeeper discovery
Automatic gateway dialing profiles
Specify outbound call routing for gateway/ISDN
Closed captioning and text chat support both in and out of calls
Keypad audio confirmation - makes dialing easy
Network Interfaces Supported
2 independent 10/100 Ethernet ports for IP (LAN, DSL, cable modem)
Integrated Ethernet switch
1 x POTS for voice
Optional 2-port Serial Module (V.35/RS-530/RS-449 with RS-366 dialing)
Optional wireless LAN support via Ethernet port
Optional Quad BRI (Basic Rate Interface)
Optional PRI (Primary Rate Interface) T1/ E1
Ethernet Connectivity
TCP/IP, HTTP, DNS, WINS, SNMP, DHCP, ARP, FTP, Telnet
Internal live video unicast or multicast stream to Cisco IP/TV, Apple Quicktime, etc.
T.120 interface for Microsoft Netmeeting
Directory Services
1000+ number local directory
10,000+ number global directory
Unlimited MPPlus entries
Live address book with Polycom Global Address Book automatically and quickly removes endpoints from directory if they are turned off
Live address book with Polycom Global Address Book automatically and quickly updates directory with address changes or new endpoints
Automatic ISDN localization of calls
Polycom Global Address Book integrates with Active Directory/LDAP
Security Features of the ViewStation 4000
Independently tested for endpoint security
Enhanced integration for independently certified corporate and classified encryption devices
Secure password authentication
Unique factory default passwords
Dial-in meeting password
Do not disturb meeting feature for MPPlus calls
Do not disturb meeting feature for point-to-point video conferencing
Select which menu screens to password protect
SNMP security alerts for failed and successful password authentication attempts
Option to disable mixed protocol MPPlus calls
Option to disable remote interfaces (FTP, SNMP, Telnet, HTTP, Streaming)
ViewStation 4000 System Management
SNMP management
Software upgrades via PC, IP, or in a ISDN video call
Administrator configurable dialing speeds
Integrated Web server for remote management and Microsoft PowerPoint presentations
Remote administrator video-only monitoring of room or video conferencing calls from integrated Web server (enabled/disabled from endpoint for security)
Account number validation at call initiation integrated with Polycom Global Management System for billing purposes
Built-in extensive Call Detail Records (CDR) that do not require separate external management system
Complete support for The Polycom Office including: Polycom Global Management System, Polycom Global Address Book, Polycom OneDial and Polycom PathNavigator
Data Port
API for custom integration with remote devices such as Crestron™ and AMX™ control systems
RS-232 control port/data communications port (1200 baud to 115k baud asynchronous)
Other ITU Supported Standards
H.221 communications
Bonding, mode 1
H.225, H.245
H.281 far-end camera control
Annex Q standard for FECC in H.323 calls
Electrical
Operating voltage/power 90-260 VAC, 47-63 Hz/40 watts
Auto-sensing power supply
Language Support of the Polycom ViewStation 4000
Chinese, English, French, German, Italian, Japanese, Norwegian, Portuguese and Spanish
Environmental Specifications
Operating temperature: 0 to 40° C
Operating humidity: 10% to 85% R.H. noncondensing
Nonoperating temperature: -40 to 70° C
Nonoperating humidity (noncondensing): 10 to 90%
Weight and Demensions
Base Unit Weight: 4.7 kg/10 lbs
Dimensions (W/H/D): 43.8 cm x 8.8 cm x 46.7 cm
Polycom ViewStation 4000 Warranty
Three year labor and parts
About TKO
TKO Video Communications is an industry leader in providing reliable, high-quality video communications solutions for commercial, government, educational and international enterprises. Services include video conferencing, streaming video and audio, event management and satellite broadcasting.