Outsourcing for Audio Conferencing Services
Audio Conferencing today facilitates collaboration.
Managing you own audio conferencing network that includes establishing many user accounts and providing a positive user experience can be challenging. Most conference network users expect to have collaboration tools available too.
Options
You can choose an outside service provider to host teleconference calls on an external network or choose a vendor as an inside service provider on your own network with your own equipment.
Each choice offers advantages and disadvantages.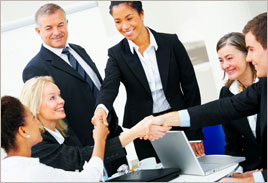 Outside Service Providers
Advantages:
Easy and fast startup
Helpdesk user support
Systems upgrades are included
Distribution of user ID's and passwords
Disadvantages:
Lack of confidentiality for meeting content
Little control over network price changes
Inside Service Providers
Advantages:
High level of service and confidentiality
Quality is easily monitored and reported
Upgrade costs and known with few surprises
Disadvantages:
Two month start up time is typical
Start up costs are high
TKO is your source for both methods of audio conferencing outsourcing. Contact us to discuss your needs.
About TKO
TKO Video Communications provides professional grade video and audio conference technical staffing, video communications equipment, and collaboration tools. We specialize in making video and audio communications work reliably for small and large enterprises.