Outsourcing Broadcast Services
Distributing your message far and wide can be done via broadcast with traditional satellite trucks and dishes or with webcasts and streams....TKO provides them all.
TKO specializes in taking video communications from one or multiple locations to a worldwide audience. We expertly create large scale Satellite Broadcasts including the integration of Webcasts for both Live and On-Demand Streaming.
Turn the technical complexities over to TKO.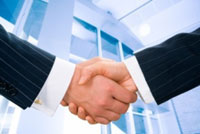 Options
Satellite broadcasts and Webcasts both require a collection of systems including cameras, microphones, and transmission technologies along with a skilled technical team.
TKO offers a complete range of broadcast outsourcing services including:
Planning infrastructure capacity for your facility
Arranging satellite space time, camera crews, and downlink support
Engineering uplink capability, streaming capacity, and firewalls
Operating broadcast systems including webcast encoding systems
Training and supporting your remote staff members to receive broadcasts
Providing onsite technical support before and during a live broadcast

The right team, with the right technology can broadcast a live message globally with surprising economy.

Broadcasting Events
TKO's experienced team has successfully produced high-profile, technically complex broadcasts for over fiteen years. Contact us to ensure success for your next event.
About TKO
TKO Video Communications provides professional broadcasting and webcasting services, video communications equipment, and collaboration tools. We specialize in making video and audio communications work reliably for small and large enterprises.