Outsourcing for Videoconferencing Services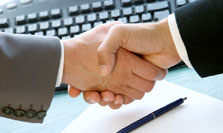 Videoconferencing takes on many dimensions with frequent changes making it difficult for internal staff to keep up. TKO solves this problem with certified technicians on-call or at your site.
Managing video communications connections is an ever-changing industry that requires constant investment in training, certification, and hands-on troubleshooting. Our expert technical team can assist you by telephone and video connection or onsite at your location.
Choose the level of support you need
Urgent Service - Immediate support remotely using TKO's video bridges and equipment
Urgent Dispatch - Immediate technician dispatch to your location
Periodic or Part Time Support - Supplement or enhance your in-house employee capabilities
Event Support - Special Technical assistance during the most demanding events and timeframes
Onsite Services - Full Time and Part Time onsite professional support to operate and manage your network
TKO's certified technical staff members can:
Manage video conferencing endpoints, conference room equipment, and network infrastructure
Troubleshoot new and known equipment failures, periodic problems, and networking issues
Maintain and repair video conferencing systems and related infrastructure equipment
Provide user training and recommend best practices to ensure conference reliability
Recommend and install Cisco, Polycom, LifeSize, and Sony collaboration tools and equipment
About TKO
TKO Video communications provides professional grade outsourced staffing, video communications equipment, collaboration tools, training, and event support for video networks. We provide short-term urgent support and continuing onsite full and part time professional services.