Sony PCS-1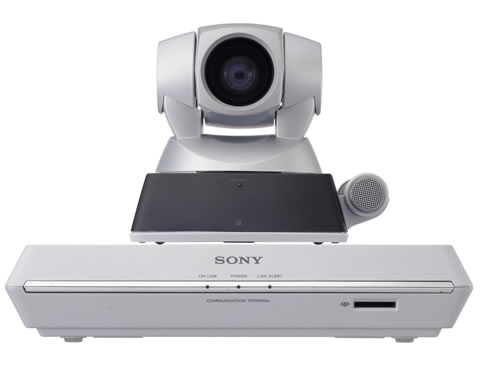 The Sony PCS-1 is a well engineered and small set top video conferencing system. Sony's reputation as a high quality electronics manufacturer is assured with their introduction of the Sony PCS-1.
The Sony set top PCS-1 includes a high quality Sony camera, microphone, cabling to connect to any television set and a Sony wireless remote control. Every Sony product is delivered with the same quality you have come to expect from one of the world's best known brands. We support Sony products with telephone and optional onsite service as well. The combination of Sony products and TKO's service is unmatched.
Network Features
The system reaches speeds up to 768 Kbps over the ISDN network and up to 2 Mbps over IP networks. The PCS-1 offers a high performance internal MCU option connecting up to six sites for a video conference using any combination of ISDN or IP connections with the optional multipoint software. It also has such new features as enhanced data collaboration capabilities and built-in electronic whiteboard interface. The PCS-1 provides built-in Sony QoS technology to help ensure and enhance video quality over unmanaged networks. High quality audio is featured through AAC (Advanced Audio Coding) at 14 kHz, compliant with the MPEG-4 standard.
System Features
The PCS-1 has an array of features to make your next video conferencing easy and cost effective. They include the following;
Flexible Installation
The unique two-piece design can accommodate any installation requirement for a video conference room layout.
State-Of-The-Art Video Quality
Equipped with encoding capabilities compliant with the ITU-T H.264 standard for network-based video conferencing, the PCS-1 can reach up to 2Mbps and 30 frames per second.
Superb Audio Quality
With advanced audio coding at 14kHz and MPEG-4 compliant, the PCS-1 emits superb audio quality on a point-to-point video conference via a network with double the bandwidth frequency of conventional audio encoding.
Multiple Camera and Microphone Support
The PCS-1 offers an optional second camera and microphone designed to meet any requirement for a large room installation or room design requisites. Users have full control over the second camera for a more flexible meeting.
Multi-Point Video Conferencing
Connect up to six sites in continuous presence using any combination of ISDN or IP connections with the optional multipoint software. For IP-only conference calls, users can connect up to ten sites by using two PCS-1 units with optional multipoint software.
Data-Sharing Capabilities
Share computer or handwritten material 1 in real time to remote sites for faster, more succinct presentations.
Quality of Service Enhancement
Utilizing built in technology for unparalleled video conferencing, Sony's QoS technology results in minimal interruptions and better performance while conferencing on the Internet or on LAN/WAN networks.
State-Of-The-Art Security
Protecting the security of private information discussed on an IP conference call through the industry- standard Advanced Encryption Standard (AES) is a standard feature on the PCS-1 giving users a high-end feature without the high-end price.
System Configurations
The Sony PCS-1 comes in the following system configurations. Contact TKO for further information and pricing.
PCS-1323 (PCS-1 c/w IP at 2 Mbps)
PCS-1320 (PCS-1 c/w IP at 2 Mbps and ISDN at 768 Kbps)
PCS-1323ME (PCS-1 c/w IP at 2 Mbps and 6-site IP multipoint video conferencing)
PCS-1320ME (PCS-1 c/w IP at 2 Mbps, ISDN at 768 Kbps and 6-site ISDN multipoint)
PCS-1COM (PCS-1 c/w IP at 2 Mbps, ISDN at 768 Kbps and both IP and ISDN 6-site multipoint)

You may also be interested in learning more about:
About TKO Video Communications
TKO is an industry global leader in providing reliable, high-quality video communications solutions for local, nationwide and international enterprises. Our services include streaming audio and video, video conferencing software and equipment (Radvision, Cisco Systems, Initia AccessSwitch, Sony, Tandberg and Polycom), audio conferencing, event management and satellite broadcasting.