Onsite Service Providers
An onsite service provider is an organization that provides professional, trained staff members at your facilities. Their staff are trained in equipment usage with know-how and certifications that enable them to diagnose video communications problems quickly and to make immediate improvements in overall video meeting and collaboration quality. These staff members report to your facilities, usually on a full time basis.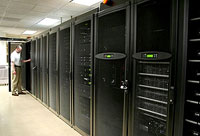 Advantages:
Highly skilled onsite personnel from the service provider will have the expertise to begin solving problems immediately.
Immediate uptime improvement; Over time 95% up time for video conference networks can be expected.
Costs for the onsite service provider can be more than fully recovered by improvement in video systems utilization.
Onsite service providers use your network and systems; therefore secure communications can be assured for your organization.
Quality measures can be easily monitored and reported because the onsite personnel act and track results as your own staff members.
Changes in technology are the responsibility of the service provider; their staff maintain certifications and currency within their industry.
Disadvantages:
Onsite service providers need time to learn your methods of daily management. They will know video technology but they may not know your organization.
Most staffing only occurs at a main site and doesn't include staffing/training at endpoints; this can cause slow improvements in connection success.
A well-run network requires either skilled personnel at each endpoint or some remote management in order to ensure systems operate well; a combination of both is optimal. This tends to expand the onsite service providers role and to increase costs.
Some service providers will recommend redesigning your network and while this may be helpful, it is often not necessary.