LifeSize Room ™
LifeSize Room™ combines an immersive, high-definition video experience with a rich set of features to deliver a powerful, flexible and easy-to-use video communication solution. An ideal fit for large conference rooms, LifeSize Room allows you to establish video calls with multiple participants through the embedded high definition multipoint bridge. Display multiple participants simultaneously with 4-way continuous presence or watch the view change automatically among callers with 6-way voice-activated switching - all without external equipment, advanced scheduling, or a technician.
With the ability to support two monitors and two cameras, LifeSize Room delivers the ultimate in flexibility. Presentations, documents and multimedia can be shared with all participants, enabling anyone with dispersed colleagues to collaborate more effectively.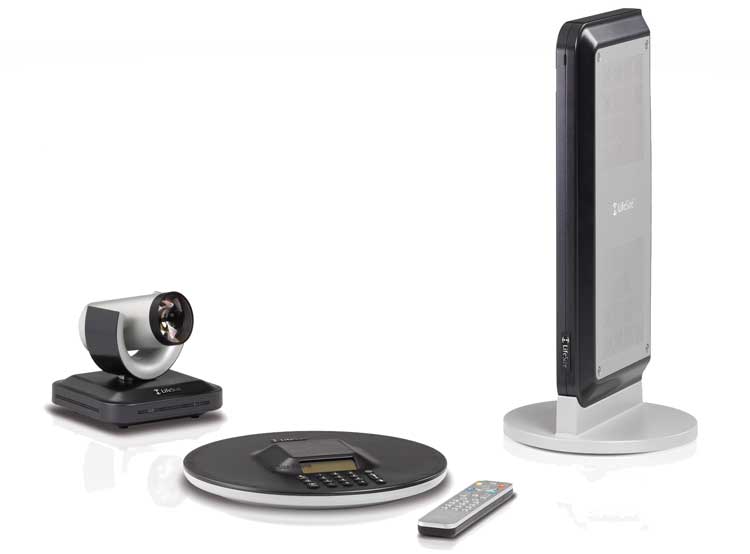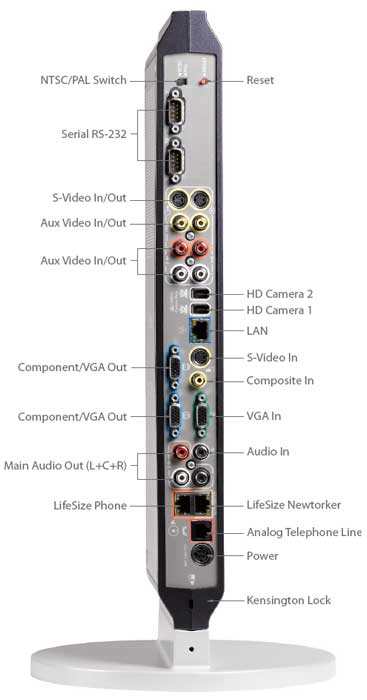 Features and Benefits:
High Definition Quality
High Definition Monitor Support
High Quality Conferencing Phone
Embedded 4 point Continuous Presenser Multipoint
Embedded 4 point Continuous Presenser Multipoint
Embedded Voice Activated Switching
Product Specifications:
System Components
LifeSize codec and stand
LifeSize Phone with fully integrated speakerphone
High Definition camera
Wireless Infrared remote control
Communications
128Kbps – 5.0Mbps
H.323, SIP
1 x RJ-45 Network LAN (10/100 Mbps)
1 x RJ-45 for LifeSize Networker (PoE Support)
1 x RJ-45 for LifeSize Phone
1 x RJ-11 for analog telephone line
Support for Multiple Displays
Support for Single or Dual Monitor displays
HD 720p component video VGA monitor
High Definition Camera
Single or Dual camera support
LifeSize HD pan/tilt/zoom camera
Resolution: 1280 x 720, 30fps
Wide-angle lens with 4x optical zoom and 70 degree field of view
Auto-focus
Automatic gain control
10 camera presets7.5 M / 25 ft. cable, Optional 15M / 50 ft. cable
Support for Sony EVI-HD1 HD Camera (optional)
Video Specifications / Video Resolution
Widescreen 16:9 Modes
128 Kbps (400 x 244 pixels) Widescreen FCIF
384 Kbps (768 x 432 pixels) Cable TV
512Kbps (848 x 480 pixels) DVD Resolution768 Kbps (1088 x 608 pixels)
2x DVD Resolution
1 Mbps or higher (1280 x 720pixels) High Definition
Actual resolution depends upon capability of remote end and is impacted by the quality of the communications channel
Video Codecs and Standards
H.263, H.263+, H.264 and H.239
Video Formats
Video Inputs (7 Inputs total)
2 x High Definition PTZ Cameras
2 x S-Video
2 x Composite/RCA in
1 x VGA In (supports up to 1280x1024)
Video Outputs (4 Outputs total)
1 x Composite/RCA Out
1 x S-Video
2 x Component/VGA
Audio Features
Highest Quality Audio
Full duplex for natural conversations
Echo cancellation
Automatic noise reduction
Automatic gain control
Ability to integrates with analog telephone line
Audio Codecs
G.711, G.722, G.722.1C (Polycom® Siren14™), G.729MPEG-4 AAC-LC
Audio Inputs (3 Inputs total)
1 x RCA line level input (L+R)
1 x RJ-45 for LifeSize Phone
1 x RCA line level in
Audio Outputs (3 Outputs total)
1 x Main audio output (L+C+R)
1 x RJ-45 for LifeSize Phone
1 x RCA line level output
User Interface & Features
Wireless Infrared remote control
Connect participants from integrated LifeSize Phone
Call Manager Graphical User Interface
13 languages supported
Customizable backgrounds
Live preview
Security
Flash-based Web management
Passwords for Users and Administrators
SNMP alerts
Ability to disable SSH, Telnet and HTTP
H.235 encryption support
Kensington lockable
Intelligent Networking Features
IPv4 and IPv6 supportAuto H.323 dialing
When used with LifeSize Networker:
Downspeed
H.320 dialing
SPID detection
Directory and Address Book
1000 available local directory entries
Save, Lock, Remove Redial List features
Missed call notification
Auto-Discovery directory lookup (patent pending)
LDAP (H.350) support
Meetings Directory support
Hierarchical address book
Embedded HD (MCU) Multipoint Control Unit
4-way HD CP multipoint conferencing for video/audio
6-way HD VAS multipoint conference for video/audio
H.239 multisite support
Integration with optional LifeSize Control management software
About TKO Video Communications
TKO is an industry leader, providing high-quality and reliable communications solutions for business, government, education and international organizations. Services include network engineering, video conferencing equipment installation and maintenance (Cisco/Tandberg, LifeSize, Sony, Polycom, Initia, and more), audio conferencing, video streaming, satellite broadcasting and event management. Founded in 1995, TKO is based in San Jose, California with offices in Washington DC, New York City, and San Diego.