LifeSize Team MP™
LifeSize Team MP™ delivers true-to-life HD video communications with the immersive, rich feature set that has made LifeSize an industry leader. Like the LifeSize Team system, the LifeSize Team MP delivers unsurpassed quality, ease of use and reliability all in a sleek, elegant form factor. Additionally, the built-in MCU (Multipoint Control Unit) allows users to create conferences of up to 4 participants in CP (Continuous Presensce).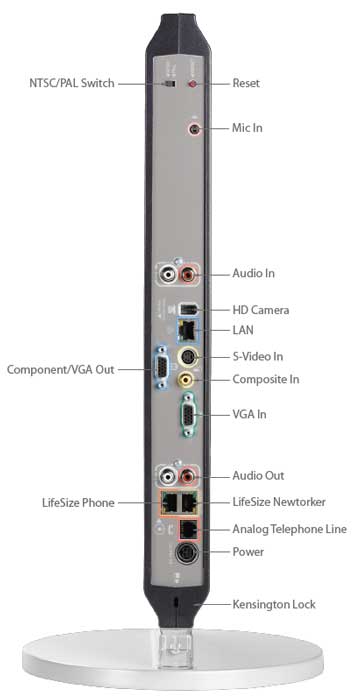 Features and Benefits:
Same great features as LifeSize Team
Embedded multipoint control unit with up to 4 connections
4 point Continuous Presence mode
High Definition Monitor Support
High Quality Conferencing Phone
HD Pan Tilt Zoom Cameras
External Audio/Video Input/Output
Product Specifications:
System Components
H.323 Codec (includes stand)
HD Pan-Tilt-Zoom camera
LifeSize Phone or LifeSize MicPod
Infrared remote control
Communications
128Kbps - 2.5Mbps point-to-point
128Kbps - 1.5Mbps multisite/call
RJ-45 Network LAN (10/100Mbps)
RJ-45 for LifeSize Networker ISDN Module
RJ-45 for LifeSize Phone
RJ-11 for analog telephone line
3.5 mm Microphone Input for use with LifeSize MicPod
Support for Single Display Types
HD 720p component
VGA monitor @ 1280x768
High Definition Camera
LifeSize-designed High Definition pan/tilt/zoom camera (patent pending)
Resolution: 1280 x 720, 30fps
Wide-angle lens with 4x optical zoom and 70 degree field of view
Auto-focus
Automatic gain control
10 camera presets
7.5 M / 25 ft. cable, Optional 15 M / 50 ft. cable
Video Specifications / Video Resolution
Maximum Resolutions Widescreen 16:9 Modes
128 Kbps (400 x 244 pixels) Widescreen FCIF
384 Kbps (768 x 432 pixels) Cable TV
512Kbps (848 x 480 pixels) DVD Resolution
768 Kbps (1088 x 608 pixels) 2x DVD Resolution
1 Mbps or higher (1280 x 720pixels) High Definition
Video Codecs
H.263, H.263+, H.264 and H.239
Video Formats
High Definition, 16x9 aspect ratio
Video Inputs (4 total Inputs)
1 x High Definition PTZ Camera1 x S-Video1 x Composite/RCA In1 x VGA
In (supports up to 1280x1024)
Video Outputs (1 total Output)
Audio Features
High definition audio
GIPS NetEQ packet loss concealment
Full duplex for natural conversations
Echo cancellation for echo-free calls
Automatic gain control
Automatic noise reduction
Audio over analog telephone line
Audio Codecs
G.711, G.722, G.722.1C (Polycom® Siren14™), G.729,MPEG-4 AAC-LC
Audio Inputs (2 total Inputs)
1 x RJ-45 for LifeSize Phone
1 x RCA line level input (L+R)
Audio Output (2 total Outputs)
1 x RJ-45 for LifeSize Phone
1 x Main audio output (L+R)
User Interface & Features
High definition, context sensitive user interface
Wireless IR remoteConnect participants from integrated speakerphone
Call Manager Graphical User Interface
Virtual Multiway support 13 localized languages supported
Customizable background screen
Selectable camera icons & live preview
Security
Flash-based Web management tool
Administrator and User-level passwords
SNMP security alerts
Ability to disable HTTP, SSH and Telnet services
H.235 encryption support including strict compliance
Kensington lockable
Intelligent Networking Features
IPv4 and IPv6 support
Auto H.323 dialing
When used with LifeSize Networker:
H.320 dialing
Auto SPID detect
Downspeeding
Directory and Address Book
1000 available local directory entries
Save, Lock, Remove Redial List features
Missed call notification
LDAP (H.350) support
TKO Video Communications
TKO is an industry leader, providing high-quality and reliable communications solutions for business, government, education and international organizations. Services include network engineering, video conferencing equipment installation and maintenance (Tandberg, Codian, LifeSize, Sony, Polycom, Initia, and more), audio conferencing, video streaming, satellite broadcasting and event management. Founded in 1995, TKO is based in San Jose, California with offices in Washington DC, New York City, San Diego, Singapore and Cork, Ireland.

Free Demonstration
For more information or to schedule a free demo and trial for LifeSize Products, please call 1.800.216.3476 or email sales@tkoworks.com