Cisco Edge 75/85/95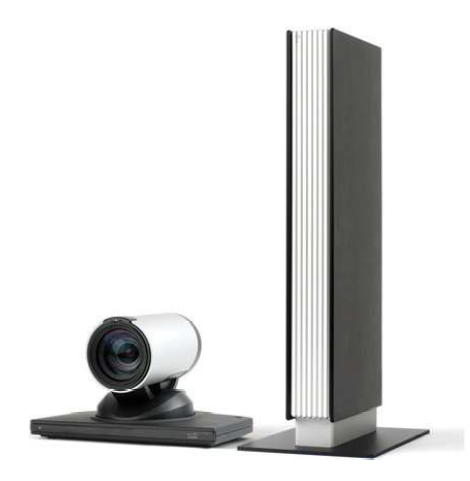 The Cisco Edge 75/85/95 is a series of increasingly capable TelePresence video systems. The feature sets move from basic in the Edge 75 to advanced in the Edge 95. Our recommendation of these three systems is the Edge 95. We regard this as the Engineer's Choice because it is the best of this series in hardware and from this hardware platform, software keys can enable rich feature sets. With the Edge 95, you can start with minimal options to save money and turn on features as you need them through software.
The Edge 95 is designed with conference room applications in mind. The camera can be mounted above or near a video display while the codec remains concealed within a credenza or cabinet. This provides a capable video system with a clean look to match a nice looking conference room.
With 4 audio inputs and 2 audio outputs, this system can accommodate two XLR microphones and other audio inputs (PC or media player) plus two routes for audio out. In addition to its audio inputs and outputs, the Edge 95 also includes 5 distinct video inputs and 4 outputs [Inputs include a mix of S-Video, DVI-I, Composite / Outputs include a mix of S-Video, Composite and XGA]. This codec is made to provide excellent utility in conference rooms.
Most significantly, the Edge 95 TelePresence product can support multiple networks (IP and Basic Rate ISDN] and multipoint conferencing. These features can be turned on through the addition of optional software keys and they greatly expand the Edge 95's capabilities.
Key Differentiators of the Edge 95:
Designed for conference rooms and boardrooms with limited integration requirements
Provides up to 720p interactive video conferencing
Form factor is a 1RU made to stand on "edge"
Includes 4 Audio Inputs and 2 Audio Outputs
Includes 5 Video Inputs and 4 Video Outputs
Includes H.460 Firewall traversal technology
Optional 4 way video plus 3 audio multisite capability
Up to 2.3Mbps Multisite bandwidth capacity
Up to 512Kbps Basic Rate ISDN (BRI) capacity
Dual Stream video H.239 capability