Cisco 6000 MXP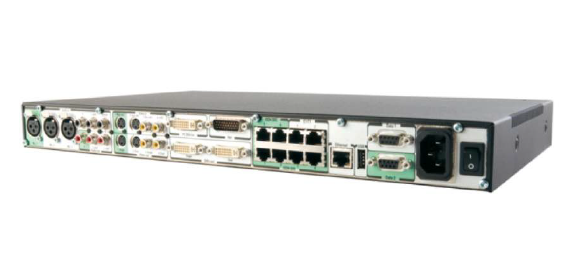 The Cisco 6000 MXP TelePresence codec is a robust integrator codec that provides excellent capabilities to connect to A/V systems in boardrooms and large conference rooms.
The 6000 MXP is designed for integration into equipment racks that require significant audiovisual engineering. With 4 audio inputs and 3 audio outputs, this system can accommodate multiple microphones and other audio input (such as from a PC, media player, or telephone hybrid). In addition to its audio inputs and outputs, the 6000 MXP also includes 6 distinct video inputs and 6 outputs [Inputs include a mix of S-Video, DVI-I, Composite / Outputs include a mix of S-Video, XGA and Composite]. This codec is made for traditional integration applications that often include external sound systems, audio mixers and a variety of video feeds and destinations.
A special capability of the 6000 MXP is its multiple network capacity. With this TelePresence codec, video calls on IP networks can be "bridged" with video calls on ISDN networks. In this single system, connections can be made that otherwise would require an entire network architecture of bridges, gateways and gatekeepers. The Cisco TelePresence 6000MXP is a jewel among technology products providing an ideal mix of video clarity, integration options and network capacity.
Key Differentiators of the Cisco MXP TelePresence Series:
Designed for integration into conference rooms and equipment racks
W720p video provides near HD interactive video conferencing
Form factor is a 1RU design for compact rack mounting
Includes 4 Audio Inputs and 3 Audio Outputs
Standard XLR, RCA audio connectors
Includes 6 Video Inputs and 6 Video Outputs
Standard DVI, S-Video, XGA and composite video connectors
Includes H.460 Firewall traversal technology
Optional 6 way 768Kbps Multisite capability
Up to 6Mbps Multisite IP bandwidth capacity
Up to 2Mbps Multisite ISDN capacity
Dual Stream video H.239 capability
Designed for a wide array of integration scenarios
Multiple network interfaces including LAN/IP, BRI, T-1 and PRI